Systems
Voice Recording
Health and safety is paramount in many sectors, in the event of an accident it is beneficial for key personnel and health and safety professionals to review the events, this can be achieved via call logging of conversations via voice recording feature on Hytera PD985
Telephone Interconnect
Telephone Interconnect seamlessly links landline and mobile phones with two-way radios. So employees who don't carry a two-way radio, such as sales teams and office staff, can talk to radio users – whether it's a private call to a single radio or a group call to multiple people.
Lone Worker Function
The lone worker function is usually found in mid-tier radios. The system must have at least one radio with a screen (usually held by control or a supervisor) so that the radio with the alarm can be identified.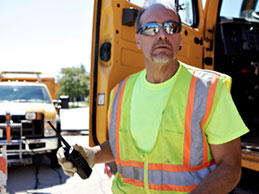 Linked Capacity Plus
If you need to communicate to a large field force across a wide area with a scalable, easy-to-use system, then Linked Capacity Plus is your cost-effective solution. Leveraging advanced repeater software, it is available in both single-site and wide-area configurations.
Man-Down Function
Most two-way radio portables have a man-down option board that is available. Man-down is a tilt-switch inside the radio that automatically sends an alarm signal if the radio is tipped on its side for more than a preset period that can be configured at the time the radio is supplied.
TRBOnet
TRBOnet is developed specially for Motorola radios, enabling you to monitor audio, data and locations.
R-LinX Alarm Handling
The R-LinX alarm handler connects your two-way radio system to your fire alarm, intruder alarm, BMS, machine/technical alarms and call buttons, immediately relaying notifications to the response team in real-time.