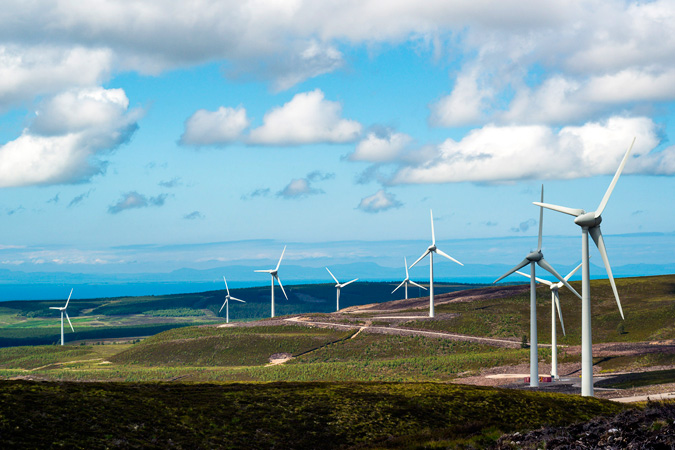 SFL Mobile Radio is proud to continue its relationship with Statkraft, installing a new two-way radio system with GPS telephone interconnect at its Berry Burn Wind Farm near Inverness.
A relatively new wind farm, when Statkraft approached SFL there was no radio system in place and the site was struggling with communications.
Due to its extremely rural location in the Highlands of Scotland, we carried out a site survey using our state of the art software which integrates with Google Earth and allows us to heatmap the area for RF coverage. *
Motorola solution with GPS telephone interconnect
We decided on the Motorola DP4801e two-way radio with telephone interconnect and GPS for maintaining personnel safety. Accessories included single rapid chargers and hard leather cases with shoulder harnesses making the radios secure when operatives are climbing the towers.
A Motorola SLR5500 repeater with battery back-up was installed which was linked to a multi SIM GSM gateway box. This enables the portable radios to make telephone calls whilst out on site. This is ideal when sites, as this one, do not have any mobile phone coverage, we are creating a mobile phone system via their radio.
SFL director Karl Beach explained why they opted for this particular system: "First and foremost, so that they can communicate with each other on site via crystal clear radio communications across an extremely rugged site.
"Secondly using the radios' built in lone worker, the operatives have an additional safety net whilst out on site.
"And lastly they are able to access mobile phone telephony via their radios. With the push of a button the radio can make and receive calls for emergency and operational purposes."
The radios and repeater are located in the substation, which is also the location of all the control equipment for the wind farm itself.
Teams of Statkraft technicians deployed on site to maintain the wind farm and its 29 turbines will utilise the radio equipment as well as any other contractors that venture onto the wind farm.
The system has one single channel via the repeater in order to cover full site communications (one channel will enable the system to remain simple but extremely functional). The radios are equipped with automatic lone worker and also an emergency button which will alert the other radios if pressed.
* Our software which integrates with Google Earth allows us to present a solution to the customer without carrying out a physical site survey allowing us to offer a value for money service to our customers.
Motorola Solutions brochure
Find out how the right Motorola solution can make your workforce more efficient and productive, click on the PDF below.
Download Motorola Solutions Brochure
More on Telephone Interconnect
Turn your existing Motorola digital radio system into a phone system
With the push of a button, your digital radio will turn into a mobile telephone. The user can keep the system open to call unlimited numbers or can restrict the system to only certain numbers depending on requirements.
External calls can be received by the portable as each radio will be allocated its own DDI number allowing incoming callers to select which radio they require.
The system is simplex so the radio user will still require to push the button when they transmit on a telephone call. Contacts can be stored in the radio similar to a mobile phone.
If you would like to know how a radio solution can benefit your organisation, please do not hesitate to contact our sales team on 0151 334 9160.
Category:News & Case StudiesUtilities & Power