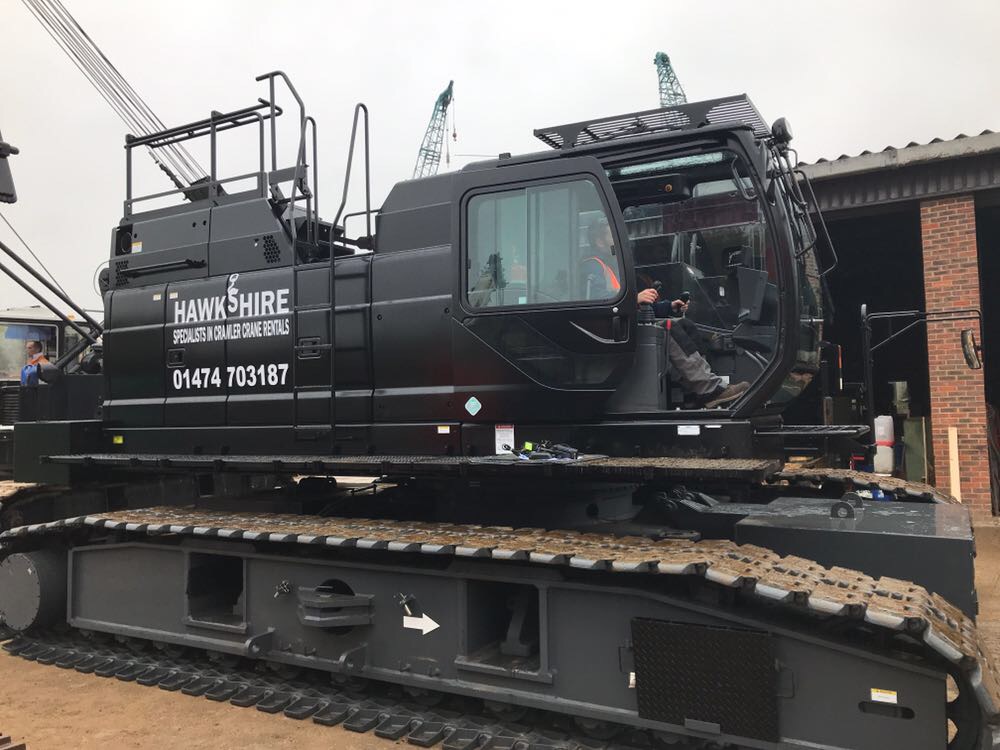 SFL has recently worked together with crawler crane specialist Hawkshire installing a hands-free radio solution for one of its crawler cranes.
Renowned for our bespoke hands-free crane radios we install on tower cranes, we needed to create a similar system to be used in crawler cranes where there is a lot less foot space.
SFL engineered a smaller backing plate for the pedals and was able to mount them firmly in place in between the existing foot pedals used on the crawler crane to move the machine.
The system we fitted had foot pedals to transmit, a boom speaker for the crash communications, a noise reducing microphone, mains powered with battery back-up and an external directional antenna for boosted signal, all of which we programmed to our Ofcom hires frequencies.
Hawkshire operations director Stephen Palmer said: "I believe it is a forward step in the safety of communication between operator, slinger and other operators in cranes that are within a close proximity.
"Clear communication, while being able to carry out the lifting operation with no interruption on the controls is a positive measure for the safe lifting operations that we promote amongst our team."
Mr Palmer is an ex-tower crane operator at HTC, and was also lifting operations manager at Mace Group, where he used SFL's hands-free radios.
A big advocate of safety and having seen the radios working successfully on tower cranes, he was keen to utilise them for Hawkshire's fleet of 11 crawler cranes ranging from 40T up to 250T in capacity.
And the result is this fully installed hands-free radio communication system for the company's Liebherr crawler crane.
Crane operator Matt Ayton offered this insight after using the new system: "The hands-free crane ­­­–­radio by the very nature of it means you don't have to pick up the radio and take your hands off the control of the crane, you simply use your feet – anything which makes our job safer is a plus.
"Some drivers have hand-held radios wedged in their crutch and talk from there, but this is not ideal. After speaking to all the drivers they agree the hands-free solution is a positive step to good, safe radio communications."
The adoption of hands-free radios in tower cranes has been significant over the last four years, since the recommendation from the CPA and HSE (see below) and we think building sites are safer for this.
Download HSE Tower Crane Guidance
However, crawler cranes which have many similarities to a tower crane; hand controls to lift loads, loads equally as heavy if not greater than tower cranes, often blind lifting, etc, still tend to use handheld radios to communicate with the banks-man.
If you would like to talk to somebody about hiring a hands-free crane radio, please do not hesitate to contact our sales team on 0151 334 9160.
Category:ConstructionNews & Case Studies