Improving health & safety in construction with two-way radios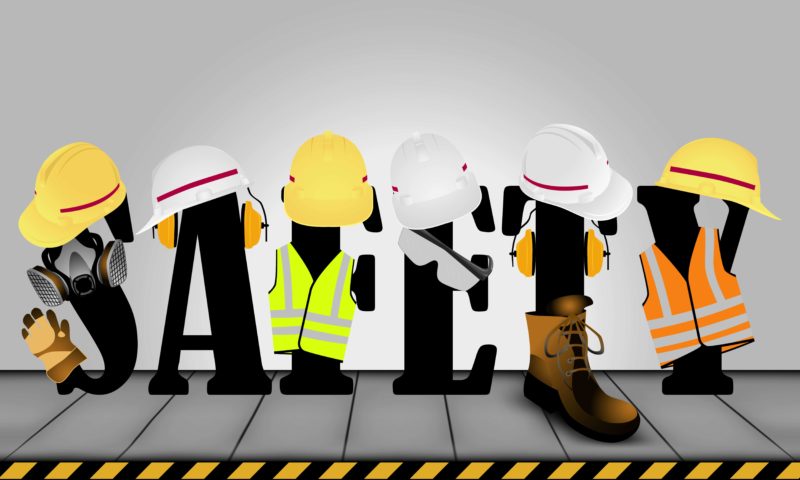 Improving health & safety in construction with two-way radios
In the UK, around 80,000 construction workers suffer from work-related bad health – and 64,000 suffer from non-fatal injuries according to the Health and Safety Executive. In 2016/17 alone, there were 30 construction-related deaths. Among the causes of these injuries and deaths were unintended collapse, materials handling, noise, slips and trips, moving objects and working from heights.
Of course, managing health and safety across hazardous environments, particularly in construction, is an ongoing challenge – and the risks are widely acknowledged. Many of these incidents are unforeseen, and with construction having a higher injury and fatality rate than any other industry it's essential that construction organisations are able to communicate, manage and mitigate risks to operatives on-site through effective communication solutions.
In this blog, we'll highlight why health and safety is critical in construction, focusing on how clear communication, in particular two-way radios for construction, can help to minimise risks and enhance worker health and safety.
Keep workers across the operation updated on developments
In an ever-changing environment, keeping teams and lone workers across a construction site aware of risks and hazards as they arise is key to ensuring health and safety. Maybe a piece of machinery has broken down and is a potential fire hazard or there has been a spillage in a high-rise area which could result in people slipping and falling. This kind of information needs to be relayed as quickly as possible and that's the main challenge for construction site supervisors.
The problem, however, is that many construction organisations do not have communication systems in place to facilitate real-time communication. According to a research report by Hytera and Health and Safety at Work, many construction sites use mobile devices as their primary means of communication. Of the organisations interviewed, 81.8% stated that the most common device used for voice and emergency communication was a mobile phone, and 34% relied exclusively on mobile phones for safety-critical communications.
While perfect for one-to-one or personal communication, mobile phones are not fit for harsh and hazardous environments. They often suffer from signal loss on construction sites and users cannot speak to multiple people simultaneously without installing an application of some sort.
What happens here is that relaying information takes considerably longer than it should – and in that time, workers could have unknowingly exposed themselves to faulty equipment, dangerous areas or other risks which they would have been notified of if real-time communications were in place. The communication of risks and hazards to operatives on the ground forms a key part of worker health and safety – and construction radios are pivotal in this process.
Crystal clear communications in high-noise environments
As well as fighting for signal and trying to get information in real time, operatives also need to contend with background noise – particularly that of machinery.
Operatives being unable to hear instructions or warnings could lead to health and safety issues. For example, a supervisor might issue a warning about a particular structure being unsafe and prohibiting entry into the area – but because of the noise the warning might not be heard correctly.
Another example is that a heavy load could be above a certain area – warnings issued operators via mobile phones may not be heard due to the lack of noise cancelling. If the load falls that could result in injuries or fatalities.
Fortunately, two-way radios can alleviate this problem and can be equipped with noise-cancelling headsets with boom microphones. These headsets suppress harmful sounds (such as machinery) down to safe levels and low sounds (such as voices) are amplified up to five times their original level. In addition, these headsets come with a push-to-talk (PTT) button, allowing for hands-free communication in high-noise environments. These functionalities make two-way construction radios with the relevant accessories ideal for communication in these instances.
Hands-free operation for construction machinery
Another challenge for construction organisations is enabling workers to communicate whilst using dangerous machinery. Using mobile phones and other handheld devices whilst operating excavators, cranes, forklifts, bulldozers, etc, is a major health and safety risk. If operators are concentrating on a communications device and not the machinery, they could unintentionally cause harm to those on the ground or damage structures, leading to falling debris – again, causing injury or death.
A simple solution for construction organisations in this instance is to use two-way radios. Two-way radios and portable two-way radios can be attached to machinery, such as cranes, bulldozers and forklift and operatives can configure their two-way radios for PTT functionality or one-touch communication and operatives can concentrate on the task at hand whilst communicating with others.
With this kind of functionality in place, instead of leaning over to press a button or pick up a mobile device and enter a number (all whilst driving or operating dangerous equipment) operators can just press an easily accessible button and speak freely without removing their hands from the controls.
Take SFL's hands-free tower crane radio for example. In 2017, SFL worked together with crawler crane specialist Hawkshire, installing a hands-free solution for one of its crawler cranes. SFL implemented foot pedals to transmit communications, a boom speaker for crash communications, a noise-reducing microphone and an external directional antenna for boosted signal. The result was a truly hands-free crawler crane which allowed an operator to carry out a lifting operation whilst communicating and with no interruption in the control.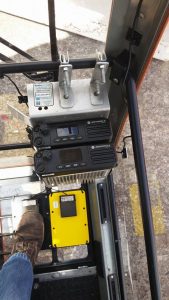 A leading supplier of two-way radios for construction environments
At SFL, we specialise in the development and deployment of sophisticated radio solutions for the construction industry. The hands-free radio kit mentioned above has been specifically designed by us; it utilises the Motorola DM4400e mobile two-way radio and accessories and is recognised as an innovative solution that is helping to improve health and safety on construction sites.
To find out more about our products and services in the construction industry, click here.
Accreditations