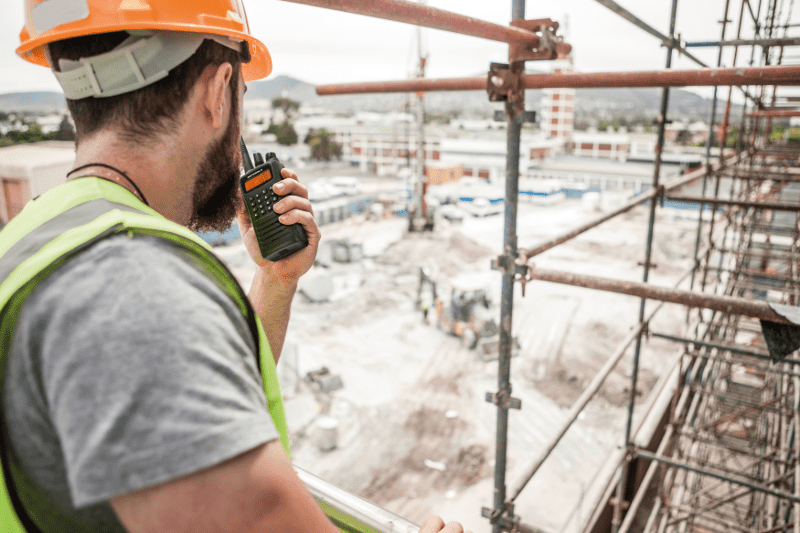 Selecting the right supplier for your two-way construction radios is vital. Not only will the right supplier be able to deliver and configure your two-way radios, they will also be able to provide advice on how your existing communications infrastructure can be modified to improve productivity, health and safety across your site.
The issue, however, is that there are a number of two-way radio suppliers out there. Many of these suppliers offer similar services, so finding the right supplier for your needs can be a challenge.
Perhaps you need two-way radios to be seamlessly integrated with machinery on site for hands-free operation – or maybe you need bespoke two-way radios which have been designed and developed with particular use cases in mind.
In this blog, we'll outline why we – SFL Mobile Radio, an award-winning two-way radio supplier and construction communications expert – can meet and exceed your two-way radio needs.
Established supplier and two-way radio expert
To reiterate: we are an award-winning two-way radio supplier with proven expertise in the development and deployment of two-way radios for construction operations.
We have over 20 years of experience in designing, manufacturing and supplying sophisticated two-way radios to a number of industries, so we have an in depth understanding of the risks and challenges construction organisations face on a day-to-day basis. Furthermore, we have worked with a number of high-profile clients in the construction industry, including Vinci Group, Costain, Carillion, and HTC Wolffkran.
In addition, we are a Motorola platinum reseller and as such can offer some of the most innovative two-way radio communication solutions on the market. If you need help with any of these solutions, our team is comprised of fully certified, two-way radio experts.
Site audit and bespoke digital two-way radio solutions
Whether you have specific requirements or use cases, or just need a two-way radio solution that can integrate seamlessly with your existing communications infrastructure, we can help.
Our fully certified and qualified engineers can conduct a free, thorough evaluation of your existing communications infrastructure and provide advice and recommendations on the best two-way radio set up for your operation.
Having evaluated your site, our technicians will configure and deploy your chosen two-way radio solutions in line with your requirements, with devices tailored to meet your specific needs to provide a truly flexible communications solution.
Sophisticated two-way radio solutions
We are a proud reseller of Motorola two-way radio solutions. Our suite of communication solutions includes hand portable radios, mobile radios, repeaters and accessories, all of which are cutting-edge and available for purchase or hire. Here's a more comprehensive breakdown of the Motorola two-way radio solutions we provide:
• Hand portable radios
Motorola's hand portable radios enable users to coordinate and communicate with others within an operation on the go.
• Mobile radios
These digital two-way radios utilise advanced technology – including Bluetooth, Wi-Fi, location tracking, dust and water protection, man down, lone worker and analogue/digital functionality (allowing compatibility with existing analogue solutions) – to reliably deliver all the features construction workers need.
• Repeaters
Motorola repeaters easily extend the range of existing MOTOTRBO infrastructure through dead zones and across remote locations, allowing for local, regional and even international communications.
• Accessories
Speaker microphones, noise-cancelling headsets, leather cases, UHF and VHF antennas, batteries, Motorola earpieces, chargers – we have a large repository of high-end accessories to improve the usability and functionality of your two-way radio solutions.
Dedicated customer service and maintenance on standby
One of the greatest benefits of working with SFL Mobile Radio is our dedicated customer service and maintenance. If there are any issues with your two-way radio solutions, you can contact us at any time and get the support and expertise you need. Repairs and maintenance are carried out by our team of fully qualified engineers in our state-of-the-art workshop, and radios are typically returned within one week of receipt.
With this high quality service and rapid turnaround, you can minimise disruption to your construction operation and get communications back up and running as quickly as possible.
More than just a supplier
We consider ourselves partners, rather than just suppliers. We don't just provide our clients with the two-way radio devices and communication systems they need – we help our clients to get the most out of their communications infrastructure. We are always on hand to provide support and assist our clients with the deployment and expansion of communications.
If you're looking for a two-way radio supplier that can act as an extension of your construction operation and provide advice and support to help maximise your two-way radio and communication investment, look no further than SFL Mobile Radio.
Find out more about our Motorola products by clicking here.
Category:News & Case Studies