Two-way radios save valuable time for international retailer L'Occitane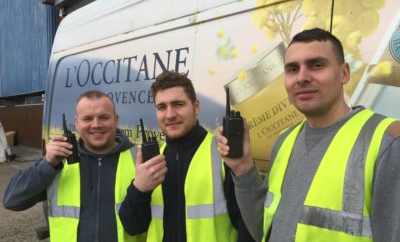 SFL Mobile Radio is pleased to provide international retailer L'Occitane's with two-way radios for its UK Distribution Centre in London.
The company, who offer natural skin care and beauty products, bought nine Motorola DP1400 radios to use at the Distribution Centre which supplies 86 of its UK and Ireland stores as well as its wholesale accounts.
Distribution Centre manager James Lemon said: "We have an internal fulfilment department on site and our E-com operations are based here, so lots of moving parts across two warehouse units.
"For us it's all about time saving. There is nothing worse than walking around the warehouse trying to find someone, often for the simplest of things.
"The new radios have definitely saved us a lot of hours since we started using them," he added.
James explained that while they did have a two-way radio system in place prior to ¬¬their purchase from SFL Mobile Radio, however it was not effective or efficient.
"The radios were basic models that didn't cost much at all. They were also unlicensed so we had a few issues with them in terms of quality and interference from other users in the area."
James said the company is more than happy with its decision to upgrade.
"The radios have been brilliant. You can feel and hear the difference in quality straight away compared to the entry level radios.
"And not hearing baby monitors, other workers in the area and people singing nearby now we have a license is also a nice little bonus."
• Simple and affordable, the DP1400 combines the best of two-way radio functionality with the latest analogue and digital technology. With superior audio quality, outstanding coverage and a long-lasting battery life it provides a reliable communication solution.
If you would like to know how a radio solution can benefit your organisation, please do not hesitate to contact our sales team on 0151 334 9160
Accreditations