Two-way radios enable efficient communications at Cardington Studios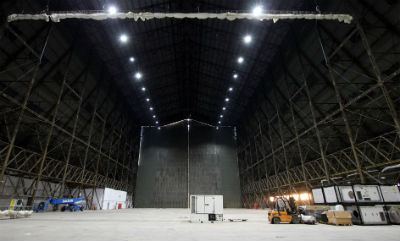 SFL Mobile Radio is pleased to provide Cardington Studios with two-way radios for their premises in Bedfordshire.
The film and TV production studio, host to a number of blockbuster movies has purchased 20 Motorola DP1400 two-way radios, access mics and spare batteries.
Studio manager Nina Malivoire explained that the radios have a dual purpose, firstly for health and safety requirements including employees lone working, and secondly for the company's staff to communicate effectively with each other in one of the largest studios in Europe.
"Each department has a radio to be able to communicate with each other in such a vast space as ours," said Nina, (the hangar boasts an incredible 180ft to top roof pitch and a total square footage of 98,000).
"Our riggers use the radios when up in the roof, security for any site alerts and the office can communicate with any member of staff they need to get in touch with."
The twenty new radios will allow every member of staff to have one on their person at all times.
The studio currently has three channels in use on a private frequency (due to the confidentiality of the industry). One for warehouse, one for office (in case of emergencies) and one for rigging.
The DP1400 portable two-way radio combines the best of two-way radio functionality with the latest analogue and digital technology.
Ideal for everyday use, the DP1400 provides a simple, reliable, cost-effective communication solution to help work colleagues connect, coordinate and collaborate.
For more information on the Motorola DP1400 two-way radio, see the below specification sheet:
Download DP1400 Specification Sheet
If you would like to know how a radio solution can benefit your organisation, please do not hesitate to contact our sales team on 0151 334 9160.
Accreditations