Hytera Licensed Radios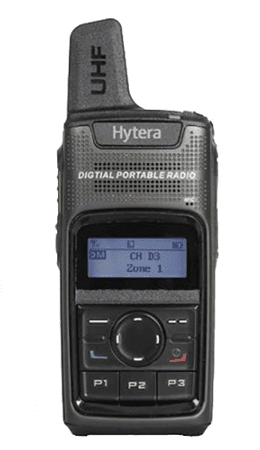 Hytera PD375
Ideal for discreet use in retail, hospitality or education environments.
Battery Life 2000mAh, Up time Analogue 10h, Digital 12h
Hytera PD365
Stylish and compact design, smartphone format and intuitive operation.
Pre-programmed quick text menu ready to send to contacts.
Hytera PD355
Pocket-sized, Micro USB Charging & Dual Modes.
Features in a small form factor, ideal for discreet use in retail, hospitality or education environments.
Hytera TC-620
Specially designed for users in facilities management, hotels and the service sector.
Battery life that outlasts a shift from a single charge
Hytera TC-610
TC610 features an IP66 dust / water proof rating so it is perfect radio for harsh environments.
Powerful speaker ensuring super clean and clear sound.
Hytera TC-700P
Delivers clear communication even in noisy environments.
multi-level safety mechanism esures the TC-700P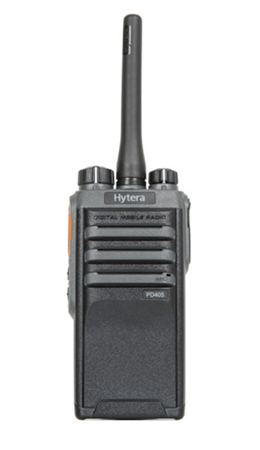 Hytera PD405
Dual Mode (Analogue & Digital), 48 Channels
Digital text message function, radios are dust and water-resistant with a IP55 rating.
Hytera PD415
Integrated RFID reader (PD415) The optional Hytera RFID tags and checkpoints.
With embedded digital technology producing outstanding voice quality.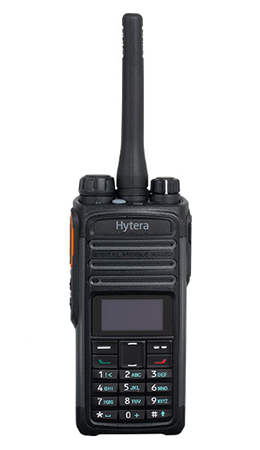 Hytera PD485
Dual Mode (Analogue and DIgital), 48 Channels & Digital text message function
VOX & Emergency Alarm & GPS antenna for outdoor positioning.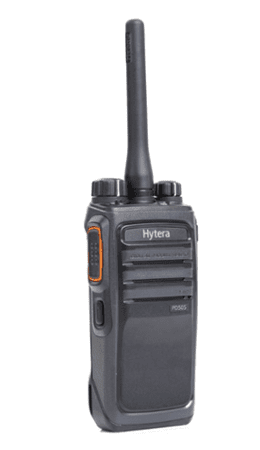 Hytera PD505
Basic encryption in digital mode and scrambler feature in Analogue mode
IP54 Compliance,48 selectable channels, 3 zones and lithium-ion battery (1500 mAh)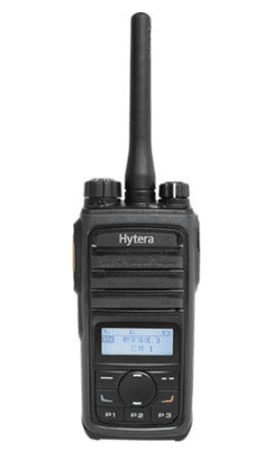 Hytera PD565
Voice calls: individual call, group call, broadcast call, data call, emergency call
Radio offers a high level of mobility and ideal for use on long shifts
Hytera PD605
48 Channels , IP67 Compliance , GPS Positioning & Man Down
With the 1500 mAh standard lithium-ion battery handsets can achieve an operating time of at least 16 hours.
Hytera PD665
Up to 1024 Channels , IP67 Compliance & GPS, Man-down
With the 1500 mAh standard lithium-ion battery, handsets can achieve an operating time of at least 16 hours.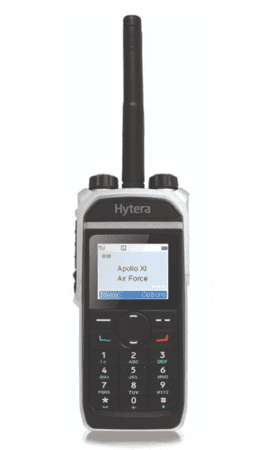 Hytera PD685
Only 27mm deep, making them particularly slim
GPS support GIS applications such as AVL, telemetry and also include a Man Down function.
Hytera PD705
Functions such as Text Message, Scan, Emergency, Man Down
Vibration Auto Registration, High-speed Data Transmission and Lone Worker.
Hytera PD755
Lone worker allows for signalling to other devices on the network.
1024 channel capacity, spread across 64 zones with 256 channels per zone.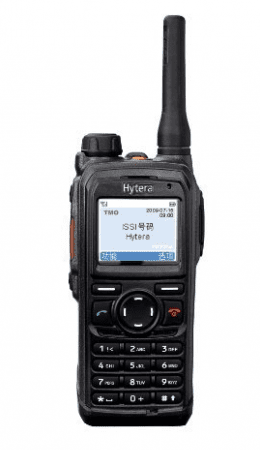 Hytera PD785
Model features full keypad and screen offering excellent functionality and build quality,
PD785(G) variant for GPS and Man Down.
Hytera PD985
Audio Recording via Micro SD card: supports up to 576 hours of recorded digital and analogue audio.
Longer Battery Life with the all new Smart Battery.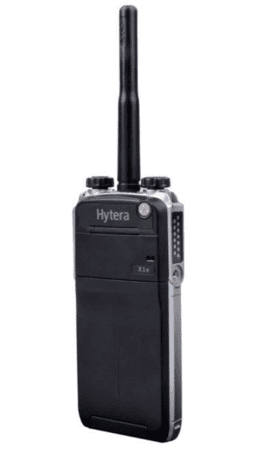 Hytera X1e
Slim and lightweight, offering the perfect combination of ruggedness and versatility.
Refined design to enable covert communications.
Hytera X1p
The X1p is a perfect combination of structural rigidity, versatile functionalities, and refined design.
IP67 compliance with LCD screen and keypad.
Hytera PD715 Ex Atex
Designed to meet the European Atex directives, FM & IEC standards
Perfect for tough environments that require intrinsically-safe devices.
Hytera PD795 Ex Atex
Use in hazardous or potentially explosive atmospheres, containing explosive gases and dust.
Full Colour screen version.