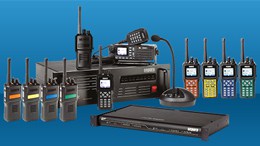 SFL Mobile Radio has been selected to become a UK distributer for Sepura.
Sepura is a global leader in the design, manufacture and supply of digital mobile radio products, radio systems and applications developed specifically for business and mission critical communications.
The company's complete communications solutions enable public safety organisations and users in the transport, utilities, oil and gas, manufacturing and construction sectors to address the communications' challenges they face every day.
Sepura offers one of the broadest ranges of TETRA and DMR products available, is regularly first to market with innovative products and features, and is a market leader in the supply of surveillance and other specialist TETRA mobile radios and radio accessories.
SFL are satisfied that Sepura's experience in the public safety field will completely complement SFL's strong digital mobile radio portfolio of products in offering additional options for clients.
For more information on Sepura products please call our sales team on 0800 975 7228 FREE.
Category:News & Case Studies