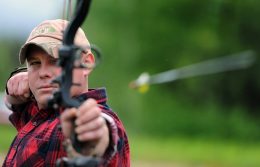 Over the past 5 years SFL Mobile Radio have been delighted to supply the National Field Archery Society (NFAS) with a two way radio communication system to support their annual 3D Championship and National Championship competitions.
The events take place over weekends in May and September respectively and are typically held in a woodland setting which can span up to 28 acres. With the nature of the events, clear communication is vital in providing the link between the organisers, admin points and medics who are also able to communicate within their own teams on a dedicated frequency.
Taking over as President in 2008 Nigel Bell was the driving force behind implementing the improved comms system which previously relied on basic unlicensed walkie-talkies that fell below the standard needed for effective communication at the events.
After trying a few other suppliers Nigel turned to SFL Mobile Radio 2012 who after listening to his requirements provided DP4400 radios which we are able to offer on a short-term hire and Nigel has since been a loyal customer.
When asked about the reason for choosing SFL Mobile Radio, Nigel highlighted the 'fantastic customer service' that he received and 'quality' of the radios supplied.
If you are running an Event and require short–term two-way radio hire the call us on 0151 334 9160 and a member of our team will be happy to discuss your requirements.
Category:News & Case StudiesShort Term Event