Full Coverage for One of Europe's Largest Manufacturing Facilities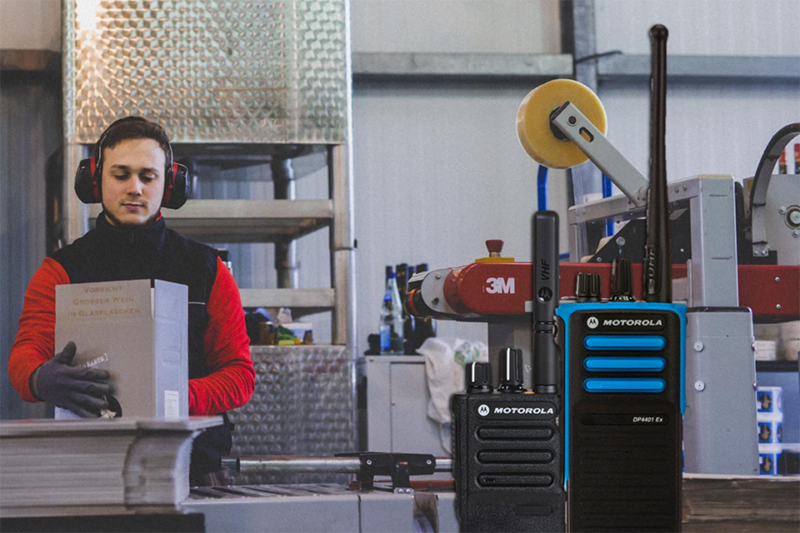 Manufacturing facilities are fast paced, demanding environments with many mass producing goods on a global scale. For this industry, two way radio communication is crucial for daily operations and health and safety throughout the site.
One of the largest manufacturing plants in Europe, with a workforce of 500 people working on site, required a robust solution to increase efficiencies. Primarily for the manufacturing team and breakdown engineers, they were previously using a combination of mobile phones and desk phones throughout. Which proved to be inefficient throughout the extremely large site.
Large workforce in place, that required approximately 20x talk groups and 300x concurrent radio users.
Site Survey
After conducting a site survey it was soon quite clear that radios back to back would not offer site wide coverage, nor would a single site repeater system, and a more sophisticated system would be required.
We discovered fibre was running throughout the plant, so we recommended utilising the fibre to connect multiple radio sites to create a wide area radio network with full site coverage. Specifically we recommended the Motorola Linked Capacity Plus (LCP) technology and set up a proof of concept to prove the system in the customers environment, which offered full site coverage, was flexible and scalable and offered them the capacity for 20x talk groups and 300 concurrent radio users.
Technology Solutions Provided;
• 3x site Linked Capacity Plus (LCP) system
• Capacity for 8x concurrent voice slots
Hardware
• 12x SLR5500 Motorola Repeaters
• 300+ radios:
o Motorola DP3441e – Non-screened Radio
o Motorola DP3661e – Screened radio
o Motorola DP4401ex – ATEX Non-Screened Radio
o Motorola DP4801ex – ATEX Screened Radio
• 2x Charging Towers
• 300+ Noise reduction headsets
Hand Portables
The Motorola DP3661e radios were allocated to the management team as they feature a screen and DP3441e for non-management. The key benefit for management having screened radios is that they can have one to one calls with team members, rather than one to group conversations. Which allows for private calls, making it a great management tool to have.
ATEX Zones
The plant also had an ATEX area on site, so required intrinsically safe ATEX radios for working in this area. The fire team across the site, also required ATEX radios.
Other areas throughout the plant were non ATEX, so staff throughout other areas went with the Motorola DP3000 series radios.
Hearing Protection for Staff
Heavy machinery is in operation throughout the site, causing the working environment to be loud for staff. Prior to using radios, all personnel had to wear ear defenders. When looking at a radio system it would also have to include a hearing protection feature. After trialling a few options, they opted for the Peltor flex 3 headsets, which offer protection of SNR 32Db. Also allowing the individual to hear the radio communication.
This was also available in an ATEX version so all users, no matter the area are able to communicate with the radio equipment, with the correct level of ear protection.
Charging Towers
Due to the limited storage space, we built a charging tower that houses 13x multi-chargers on each tower. Which saved power points, cable trip hazards and space.
Final Solution
The site has hugely benefitted from using radio communications. Phones are no longer in operation throughout the manufacturing zone, with all communication throughout the manufacturing plant now fully dependent on two way radios.
If you operate in a manufacturing environment and are looking to improve communications within. Please give the team a call on 0151 334 9160 to discuss your requirements and explore the options available to you.
Accreditations