Improve school's communication with SFL's two-way radio systems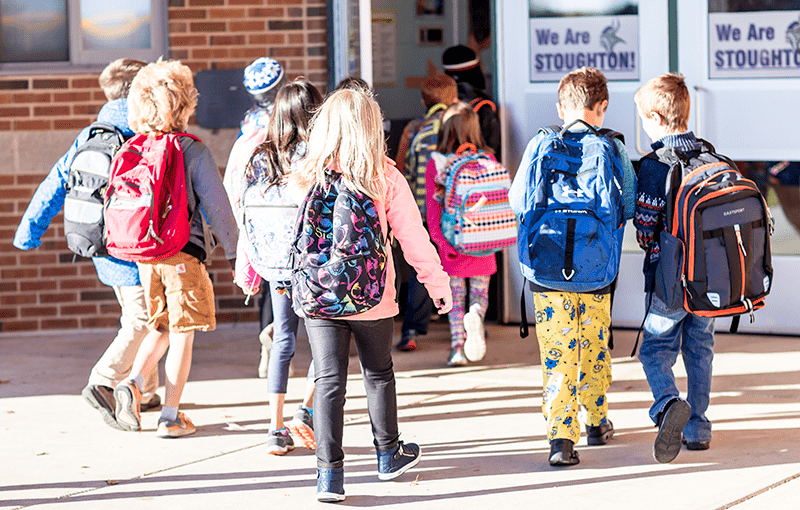 Communication plays an important role in helping staff and non-teaching staff to not only keep students and other members of staff safe, but also ensure day-to-day operations go smoothly. However, as members of staff move through the school site throughout the day and are not "desk based", timely communication can be difficult.
In the event of an emergency – or even if a colleague has a question or a student needs support – this lack of real-time communication can prove frustrating at least and disastrous at worst. Two-way radio systems address this problem. Real time, lightweight, durable and discreet, they allow staff and non-teaching staff to communicate wherever, whenever, as well as improve student safety and site security.
In this blog, we'll explain how our two-way radio systems can help educational institutions to improve communications, site management, safety and security.
How can our digital two-way radios help educational institutions?
1. School and campus-wide communication
For educational institutions with large campuses and student dormitories, excellent site wide communication is essential for student safety and effective day to day operations. From an electrical fire in one of the buildings on campus to an on-site emergency that requires the immediate attention of both teaching and non-teaching staff real-time, seamless communication is key. In these instances, mobile phones are too slow as they only facilitate one-to-one communication.
Using a two-way radio system and Capacity Plus (a scalable, single-site trunking solution), however, schools can create a wide-area network that delivers reliable, real-time communication across an entire site.
This network can be expanded as and when necessary, is capable of supporting up to 1,200 radios and allows for system-wide calling, ensuring staff and non-teaching staff can communicate with each other at any time and request help as needed.
In addition to Capacity Plus, educational institutions can also leverage IP Site Connect. IP Site Connect allows users to share voice and data applications across an unlimited geographical area. This means two-way radio functions such as GPS-location tracking, text messaging and other software features can be extended to other supported two-way radios. With IP Site Connect, campuses can create a robust school communication system with real-time communication, tracking, messaging and much more.
2. Hybrid communications for event management
Another major challenge for large schools is managing events. To ensure events are safe and secure, most hire in event security/management teams. Throughout the event's duration, staff, non-teaching staff and security/ management teams must be able to communicate.
The problem, however, is that the school might be using mobile phones and landlines, whereas security/management teams might be using two-way radios, meaning the two can't communicate with each other!
This issue can be resolved with Telephone Interconnect. Telephone Interconnect seamlessly links landline and mobile phones with two-way radios. Staff and non-teaching staff using landlines and mobile phones can then receive calls and dial out to two-way radios (and vice versa), creating a flexible school communication system.
3. Reliable communication
Unlike mobile phones, two-way radios are reliable and resilient. On average, a two-way radio battery will last between 18 and 24 months (and can be recharged/swapped as necessary), so there is no need to recharge the device after hours of continuous use. If there's an emergency or another serious situation – such as a school lockdown procedure – staff/non-teaching staff can confidently rely on two-way radios, rather than mobile devices that might need charging due to infrequent use.
This was the case for one of our clients, a school in Liverpool. It needed a school communication system to co-ordinate staff during its emergency fire process and for its new school lockdown procedure. In the past, the school had relied on pay-as-you-go mobile phones, but they weren't practical and often ran out of charge (due to infrequent use) or had no credit.
We helped the school to implement a two-way radio system consisting of Motorola DP1400 radios. Each radio was programmed with an emergency alarm that would alert all other radios.
How we helped MSP to manage school sports events using our two-way radio systems
In 2014, our client, Merseyside Sport Partnership (MSP), needed a communications solution to manage the safety and security of the Level 3 School Games it hosts on behalf of Sport England and the Youth Sport Trust.
For MSP, safeguarding and protecting the young people attending the school games is of the utmost importance, but with some events held at sites, such as Wavertree Sports Park, where events are several minutes' walk apart, clear and efficient site-wide communication was essential. MSP turned to us – SFL Mobile Radio – for a sophisticated digital two-way radio solution that would allow site-wide communication.
Having assessed MSP's requirements, we deployed 30 Motorola Solutions DP4400 devices on a short-term hire basis. This allowed MSP to use modern digital equipment without the capital outlay associated with purchasing the devices. Using our two-way radio systems, MSP was able to direct support to the areas of the event as needed and as quickly as possible.
To find out more about how we helped MSP to improve its communications, click here.
At SFL, we offer sophisticated two-way radio devices and systems and are one of the largest suppliers of radio communications equipment in the country. As a Motorola Solutions Platinum Partner, we offer some of the most advanced two-way radio devices and accessories on the market – either for hire or purchase.
In addition, we offer bespoke system configuration, free site surveys, ongoing support and maintenance and much more. So, if you're looking for the best two-way radio devices and accessories for your school, college or university (or need help with existing two-way radio configurations) we can help.
Just get in touch here to speak to one of our experts.
Accreditations